More Pier 8 questions
A cruise ship with 2000 passengers which was waiting to enter Funchal harbour yesterday decided instead to abandon its planned visit and head off to Las Palmas. The Diario reports that potential visitors on the Royal Caribbean 'Rhapsody of the Seas' (above) awoke yesterday morning with the landscape of Funchal in the windows of their cabins but the view turned out to be their only experience of Madeira. At the Pontinha, the main pier was reserved for regular visitors 'MSC Splendida' and the 'AidaSol'. The Raphsody had threatened to cancel last month, when it became evident that there would be insufficient space to use the main pier, but then decided that it would anchor offshore and ferry passengers ashore using the lifeboats. The Captain deemed wind and wave directions unsuitable for this operation yesterday. The 40 passengers waiting to board the ship in Funchal were flown on to the Canaries on a SATA flight.
A group of MPs in the Regional Assembly continue to raise questions about why so much money was spent on the new central "Pier 8" when some vessels are declining to use the facility, which is considered too open to the seas in certain conditions – one of the last attempts took three hours before eventually docking successfully (previous post). The Raphsody, after consultation with the much criticised port authority, APRAM, is apparently returning today, when there will be sufficient space to dock at the main Pontinha pier.
New Portuguese Prime Minister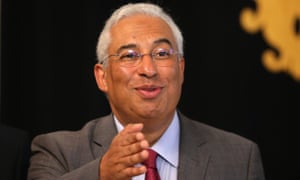 President Cavaco Silva, who recently visited this island, has asked PS leader António Costa is set to take office as Portugal's prime minister and to form a cabinet. The Socialist leader has already unveiled a list of 17 ministers, including four women, who are expected to be sworn in by the President before the end of the week. Despite coming second in last month's elections, the Socialists managed to remove the centre-right coalition and move into power with the support of the Communists and the Left Bloc (previous blog).
The previous government, led by Pedro Passos, lasted only eleven days, and the Guadian reports that "Portugal's political saga is being closely watched in Brussels, with Costa seeking to allay fears over his vow to "turn the page on austerity". whilst ft.com reports that guarantees have been given: Portugal president insists new government complies with EU rules
English Church Christmas Fair
Details below