Union says most TAP pilots will join strike from May 1 to 10
The Portugal News reports that the union representing pilots working for TAP Air Portugal expects 90% of them to take part in a strike called for the first ten days of May. It also accuses the company and the government of seeking "desperately to fabricate and foster imaginary divisions among pilots with the aim of persuading them not to defend their legitimate strategic interests". Such "manoeuvres", the union statement adds, will not succeed. TAP has a total 986 pilots, 786 of which are union members, which would lead to a total of two thirds supporting the strike.
Lisbon's striking International Airport (Portela Airport) pictured (forgive the pun!)
The strike was called on the grounds that the government is not fulfilling either an agreement signed in December last year, nor one established in 1999, both giving pilots the right to shares in the company as part of any future privatisation. The government hopes to sell a 66% share in TAP by as early as this summer. Portugal's Business Confederation, CIP, called on pilots not to go ahead with the strike, which it described as "an act of irresponsibility" and liable to damage the country's economy. Certainly visitors to Madeira connecting through Lisbon will be affected if the strike goes ahead.
Funchal property market holding up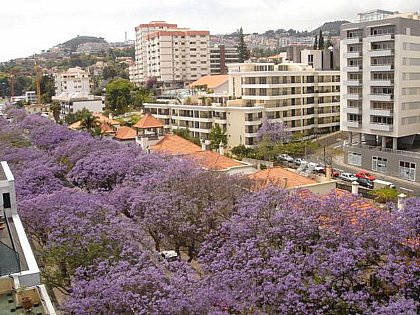 The Diario reports today that the average price in Funchal remained pretty much steady in March and that housing in the capital of Madeira continues be the most expensive residential area of Portugal – more expensive than in the metropolitan area of ​​Lisbon as a whole. This is in spite of, or perhaps a consequence of, the dramatic slow down in building since the economic crisis began. At the end of March 2015, the bank valuation of residential property in the city was €1,294/ per square metre (€1,161/m2 for the island as a whole).
The latest figures show that the most expensive areas of Funchal have a valuation of €1,816/m2 – the paper calculates that a 500m2 house at this level would be valued at €908,000 and a 300m2 apartment valued at more than 544,000 (that is a very large apartment?).
Sterling
With general election approaching in the UK and uncertainty over Greece's future in Europe, the pound has been all over the place for the last couple of months:
Still a long way off the 2008/9 low of just over parity.