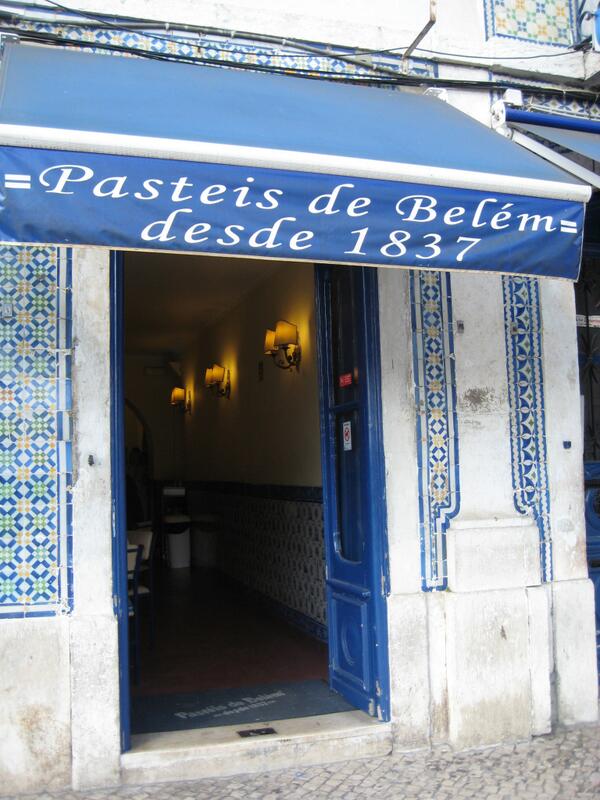 Pasteis de Belem
I'm sure I have blogged on this before, but a recent twitter feed reminded me of a very popular – indeed famous – cafe on the outskirts of Lisbon. Having been lucky enough to visit a couple of times I can recommend it as a must for anybody visiting the capital – I do not have a sweet tooth but the experience is memorable as people queue for the world-famous Pastel de Nata baked within the huge complex of rooms and serving counters at Pasteis de Belem – just outside the capital heading west on the Tejo/Tagus estuary towards Cascais. It is, in effect, a super-cafe, whose history, according to it's web site' dates back to its association with a monastry. As a result of the liberal revolution of 1820, all convents and monasteries in Portugal were shut down in 1834, and the clergy and labourers expelled. In an attempt at survival, someone from the monastery offered sweet pastries for sale in the shop; pastries that rapidly became known as 'Pasteis de Belém'. At that period the area of Belém was still viewed as being far from the city of Lisbon and had a steam-boat service. At the same time, the grandeur of the monastery and the Torre de Belém (the Belém Tower) attracted visitors who soon grew used to savouring the delicious pastries originated in the monastery.
In 1837, the baking of the 'Pasteis de Belém' was begun in buildings joined to the refinery, following the ancient 'secret recipe' from the monastery. "Passed on and known exclusively to the master confectioners who hand-crafted the pastries in the 'secrets room', this recipe remained unchanged to the present day".
Certainly is busy nowadays – hugely popular – rated 8th out of 1400+ restaurants in Lisbon on TripAdvisor:
http://www.tripadvisor.co.uk/Restaurant_Review-g189158-d939704-Reviews-Casa_Pasteis_De_Belem-Lisbon_Estremadura.html
Great You Tube video at http://www.youtube.com/watch?v=nDO7JZN0xvI
RTP Madeira
I hadn't realised what a good on-line presence RTP has, including RTP Madeira
http://www.rtp.pt/play/direto/rtpmadeira
Mosquitos
Somebody at the clothing outlet Rohan has obviously been reading the blog; the following mail-shot dropped into my inbox overnight:
http://www.rohan.co.uk/Category/Detail/MensAntiInsectClothing
http://www.rohan.co.uk/Category/Detail/WomensAntiInsectClothing
Finally…………….
A photo taken at Rua Nova Quinta Deão in Funchal sent into the Diario on-line yesterday by a reader (photo: David Henriques). The guy is obviously a seasoned levada walker! For somebody who regards a bar-stool as the maximum comfortable distance off ground level this is unthinkable! No idea what he is doing?