AJJ to resign no later than Jan 2015
During his opening speech to the Congress of the PSD-M, Alberto João Jardim, has announced that he will leave the presidency of the Regional Government in January 2015, nine months before the regional elections.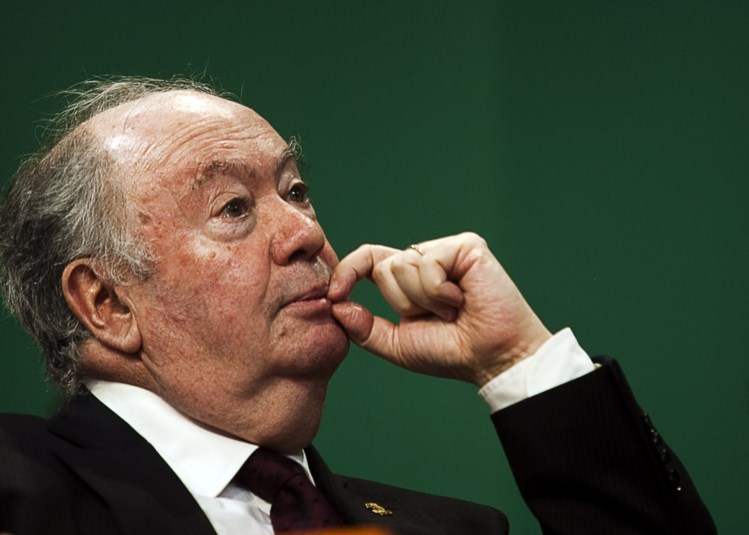 Alberto João Jardim DANIEL ROCHA
The next congress of the PSD-M is scheduled for 10th of January 2015. He will stand down immediately after the inauguration of the new party leader who, vowed Jardim, "will be the candidate of all". Jardim assured his partythat he will leave a margin of a few months for his successor to take over.
Impartial view of Madeira
The recent opening of the viewing platform at Cabo Girao sparked the following article from Barry Hatton of Associated Press, widely reprinted in newspapers large and small across Europe and the USA under the headline
"Unwise spending exposes Europe's economic errors":
CABO GIRAO, MADEIRA ISLANDS — The president of these Portuguese islands turned out, as he almost always does, for a ribbon-cutting ceremony at his government's latest showpiece investment: a panoramic steel-and-glass viewing point perched on what islanders claim to be Europe's highest cliff-top.
The price tag for the platform, parking lot and cafe was (EURO)2.5 million. That's a hefty outlay for a near-bankrupt archipelago of about 250,000 people which has (EURO)6.3 billion in public debt, needed a (EURO)1.5 billion bailout last year and has promised to be frugal. But development funds from the European Union, bankrolled by the continent's taxpayers, made it affordable by picking up (EURO)2 million of the tab.
For Alberto Joao Jardim, Madeira's president for the past 34 years of fast-rising official expenditure, the project was "fundamental" for the tourism sector and the region's economic progress. For critics, it was something else: part of the explanation of how Europe dug itself into its current financial mess through imprudent investments and misguided economic policies.
…………In Portugal, which has collected almost (EURO)50 billion from the EU over the past two decades, an infrastructure construction spree became so notorious it got its own moniker – "a politica do betao" (the politics of concrete) – as politicians plundered the aid programs for vote-winning projects. In 1989, Portugal had just 210 kilometers (130 miles) of highways; 20 years later, it had 2,860 kilometers (1,777). That's a lot of highway in a country about 550 kilometers (240 miles) long and less than 200 kilometers (125 miles) wide.
With EU aid looking like a free lunch, Portugal neglected to modernize, and the excessive emphasis on infrastructure had a negative impact on its economy. The upshot: Due to low productivity, low education levels and low technology, Portugal languished in the first years of the new century with average annual growth below 1 percent. It has now gone into reverse with its third recession in four years amid a mountain of debt.
The windfall produced notorious excesses in the Madeira Islands. But just two years ago, European Commission President Jose Manuel Barroso, a former Portuguese prime minister, touted the region as a model of EU growth. The aid for years delivered spectacular returns, helping lift the standard of living above that in Italy and just lower than in France. Thirty years earlier it was one of the bloc's five poorest regions.
The glut of aid invited extravagance as Jardim, Madeira's president, rode a wave of popularity that has made him one of Europe's longest-serving political leaders. Plaques saying he inaugurated ocean swimming pools, libraries and health centers punctuate any trip around this balmy, semitropical island of deep gorges and thick forest.
The wisdom of Madeira's lavish, EU-sponsored spending is now in question as it wobbles on the edge of its own fiscal cliff. White elephants include a (EURO)38 million harbor that sits empty, its entrance full of silt; a business park built on a misty, remote hillside for (EURO)2.5 million that lies barren; and a (EURO)670,000 oceanside helipad where, locals say, no helicopter has ever landed".
Story and photos courtesy of AP. I'm surprised that they missed the new 16 kilometre road opened between Eira do Serrado and Pico Arieiro recently – reported in the latest edition of "The Brit" to have cost €7.5 million, 95% funded by the EU.
Portugal to quit Euro(vision)
In a strangely connected story to the one above, the Daily Mail has reported that Portugal has pulled out of the Eurovision Song Contest, blaming the economic crisis.
Portugal has missed Eurovision only three times in the past 48 years, despite some mediocre results. Bad news for the UK though – apparently we have historically received a lot of our (very few) votes from Portugal! Poland has also announced that it will not take part as the financial situation meant they could not afford to join next year's event in Malmo, Sweden (looks like the poster above might have to be edited?).