Portugal and Madeira News from Paul Abbiati:
Above Euronews film:
"Crisis hit European countries are doing their best to celebrate the festive season despite the cost-cutting.
The streets of the Portuguese capital Lisbon are normally ablaze with Christmas lights but this year the council has sacrificed them to save 700, 000 euros. And at the Christmas market people are being encouraged to support the local economy, according to manager Enrique Borges:
"The Portuguese people have to be more 'Portuguese,'
and that means we have to appreciate what we have, the things that we produce. For example here in the Christmas market we have products, authentic Portuguese products, that are going to help to make the Troika leave the country as soon as possible."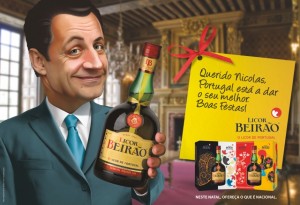 image from: meios e publicidade.pt
http://www.meiosepublicidade.pt/2011/11/25/merkel-e-sarkozy-nos-anuncios-do-licor-beirao/
Lisbon Xmas lights designed by Catarina Pestana
If some lights have been switched off others have been turned on. The usual expensive bling has been replaced by way of a cheaper but arguably more creative alternative, designed in part by Catarina Pestana.
image from the Globe and Mail site: http://www.theglobeandmail.com/report-on-business/international-news/european/little-christmas-cheer-for-austerity-hit-europeans/article2262880/?utm_medium=Feeds%3A%20RSS%2FAtom&utm_source=Home&utm_content=2262880
"Seven different art installations face the crisis in a different way"
Catarina says: "Instead of illuminating Lisbon with the traditional Christmas lights that almost nobody looked at because they were always the same, we wanted to try to do seven different art installations as a way to face the crisis in a different way."
2bn euro pension fund Xmas bonus
The Portuguese government has also received a Christmas bonus in the form of a previously unknown 2bn euro pension fund surplus."
More Xmas events
from Elaine in the comments section. Thanks Elaine.
Today Wednesday:
"Cocktails and Entrees Competition in the Farmers' Market, 12 – 15 hours.
I Concurso de Cocktails e Entradas "Paladares da Madeira" no Mercado dos Lavradores. Esta 4ªfeira (7 de Dezembro) entre as 12 e as 15h.
This is to celebrate a year of promoting regional products. 18 barmen will make 18 different cocktails using fruits from the market, regional drinks and drinks supplied by J. Faria & Filhos, Lda. These will be accompanied by 19 entrees concocted by Chef Alberto Aveiro do CELFF and made by finalists from the Escola de Turismo e Hotelaria da Madeira. Produce supplied by SantoQueijo, Fábrica de Mel de Cana do Ribeiro Seco, OvoGirão, Santagro e Banamadeira. The general public are invited to watch the show and taste the results."
Xmas Concert at The English Church– Igreja Inglesa in Rua do Quebra Costas, Funchal
Students of the Conservatório – Escola das Artes perform Wednesday from 18 horas an instrumental Xmas concert.
Tickets 10 euros.
images unless cited are from the Diario Newspaper.